GREEN DESTINATION
The Municipality of Cerklje na Gorenjskem, as a tourist destination, has been awarded the Bronze Slovenia Green Destination badge based on the application and assessment within the framework of the Green Scheme of Slovenian Tourism.
Our goal is to continue following and promoting good sustainable practices in the areas of economic, environmental, and social responsibility. We also strive to collaborate directly with suppliers, customers, and the community to encourage them to do the same. We invite you to join us in respecting and raising awareness of these principles, as it promotes sustainable tourism and entrepreneurship in our region, country, and the world.
WHAT YOU NEED TO KNOW BEFORE VISITING US?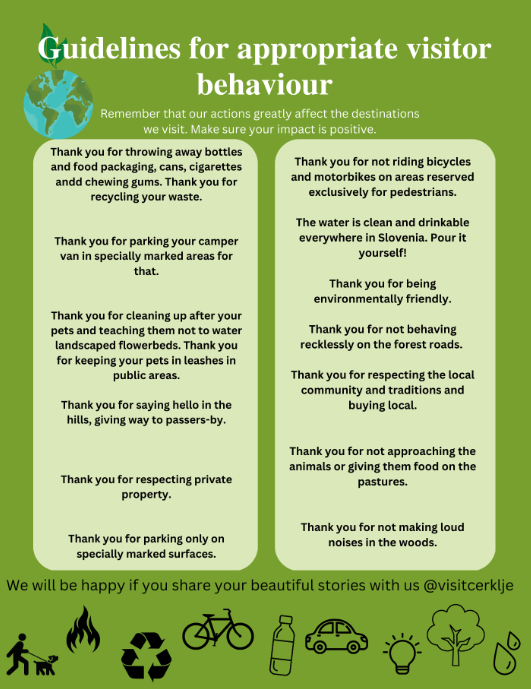 LET'S WRITE OUR GREEN STORY TOGETHER! -> CLICK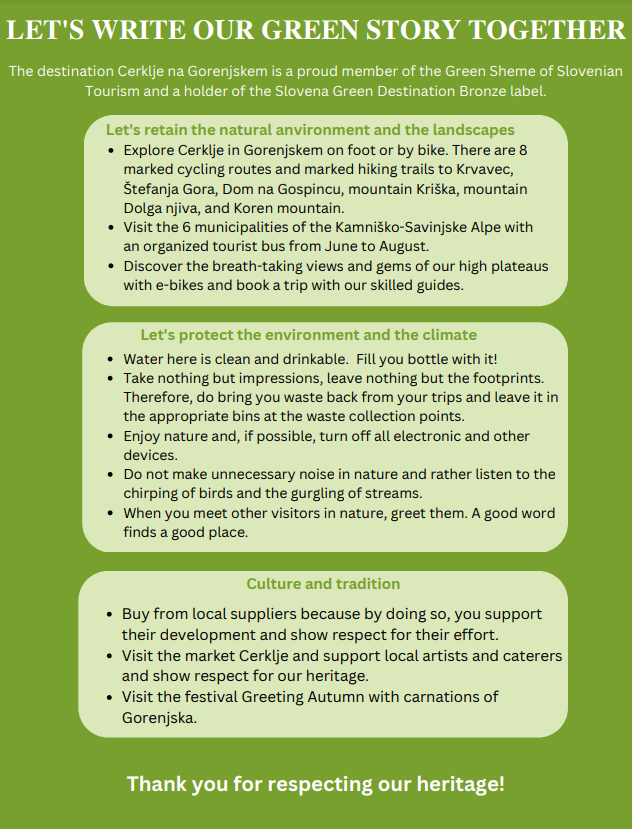 SUSTAINABILITY TIPS
-> REDUCE YOUR CARBON FOOTPRINT - HOW?

TOURISM PROVIDERS:
We invite you to join an important step towards a greener future. Together, we can enhance our planet and preserve our natural treasures. That's why we invite you to participate in measuring your carbon footprint.
Your contribution will be crucial for the sustainable development of our region and the preservation of the beauty we offer to our visitors.
Your action will contribute to conserving the environment for future generations and strengthening our sustainability-oriented tourism offerings.
Together, we can achieve so much more!
Calculate your carbon footprint HERE
Share the results at: info@tourism-cerklje.si
1. BY BIKE:
RENTAL BIKES IN OUR MUNICIPALITY ->
GORENJSKA BIKE --> price list: download
--> instructions for use: download
ELECTRIC BIKE RENTAL AT KRVAVEC (every day from 9 AM to 5 PM)
at the lower cable car station
at the upper cable car station
at the Hotel Krvavec reception
Contact: info@rtc-krvavec.si ; call 042525949 or visit their website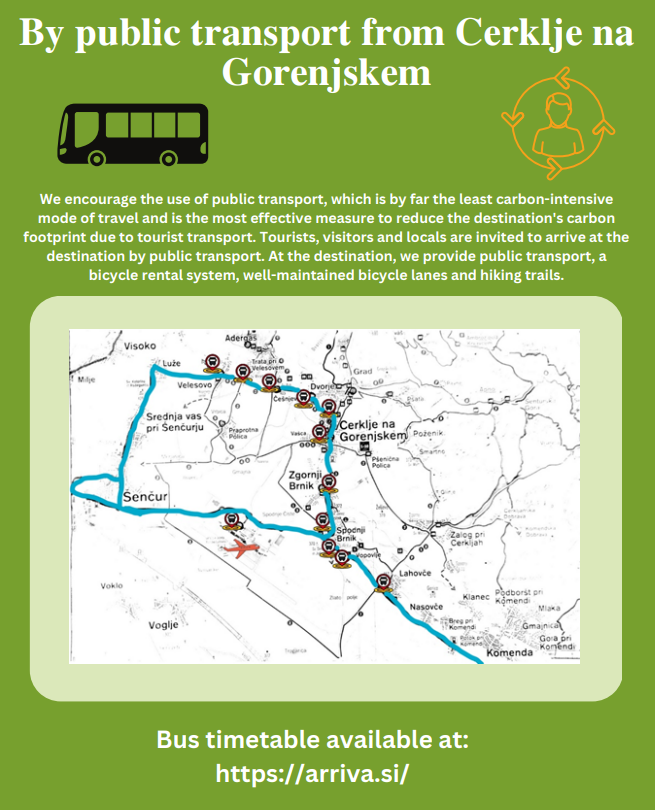 3. ORGANIZED TRANSPORT AROUND THE KAMNIK-SAVINJA ALPS
Use a more friendly transport option and take your friends, family or acquaintances through the beautiful landscape of the Kamnik-Savinja Alps with an organized transport.
Access to Logarska dolina, Jezersko, Krvavec, Preddvor, Podvolovljek and Kamniška Bistrica, will not present any logistical problems. In the morning, the transport will take you in one direction, and in the afternoon you will return in the opposite direction to the starting destination.
The transport is organized every day, you just have to reserve your seat the day before.
Learn more about transportation around the Kamnik-Savinja Alps - HERE.
VIEW THE TIMETABLE AND STATIONS --> HERE
-> LET'S REDUCE WATER USAGE
Wastewater management is an important activity that has a great impact on the environment, so it is important to take care of the responsible management of waste water.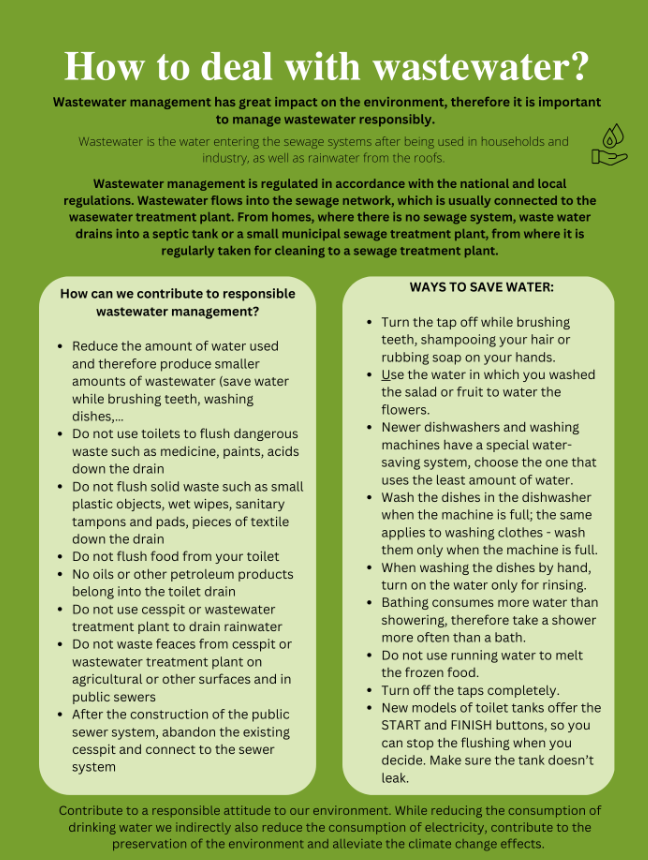 We contribute to a responsible attitude towards the environment. By reducing water consumption, we also indirectly reduce electricity consumption, contribute to preserving the environment and mitigating the consequences of climate change.
-> PROPER WASTE MANAGEMENT
Common Mistakes in Separation - click
SEE WHERE OUR ECOLOGICAL ISLANDS ARE LOCATED THROUGHOUT THE ENTIRE CERKLJE NA GORENJSKEM MUNICIPALITY --> HERE
-> LET'S REDUCE PLASTIC CONSUMPTION
As a destination, we commit to minimizing our use of single-use plastic items:
Single-use plastic bottles
Single-use plastic cups
Single-use plastic food packaging
Single-use plastic packaging in HOTELS and APARTMENT ROOMS
We will adhere to the principles of the "Global Tourism Plastic Initiative" in the following sequence:
Eliminate all problematic and unnecessary plastic packaging and items.
Transition from single-use models to reusable models.
Utilize plastic packaging that is reusable, recyclable, or compostable, and encourage our suppliers to do the same.
Increase the proportion of recycled content in plastic products.
Invest in increasing the rates of plastic recycling and composting.
Report on progress towards the goal of eliminating single-use plastic from Slovenian tourism, focusing on the four key items.
CHECK OUT WHERE OUR ECOLOGICAL ISLANDS ARE LOCATED THROUGHOUT THE ENTIRE CERKLJE NA GORENJSKEM MUNICIPALITY - --> HERE
CERKLJE TOURISM PROVIDERS
YOU CAN JOIN THE COMMITMENT TOO!
CLICK ---> LESS PLASTIC, MORE SUSTAINABILITY – NOW IS THE TIME TO ELIMINATE SINGLE-USE PLASTIC FROM SLOVENIA TOURISM
We would be delighted to receive your confirmation; kindly send it to info@tourism-cerklje.si
-> LET'S BE SOCIALLY RESPONSIBLE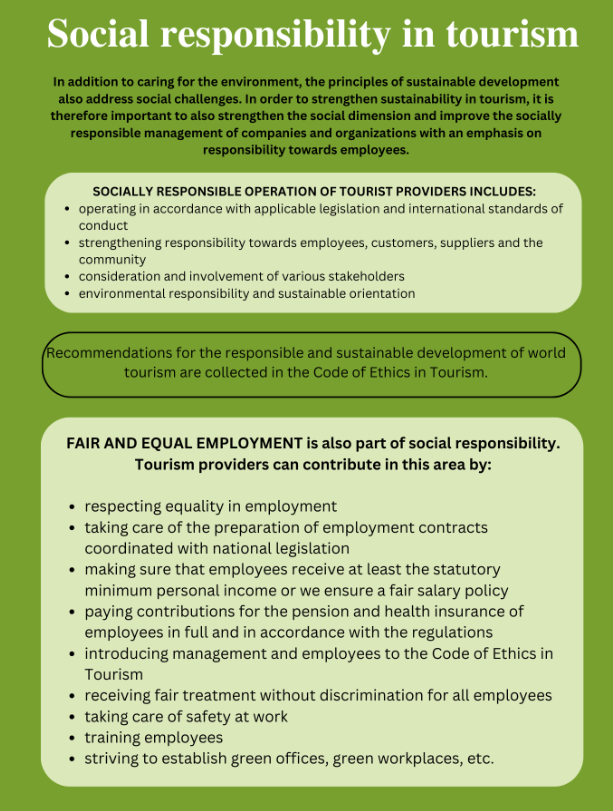 -> BECOME A GREEN OFFICE
The Cerklje Tourism Institute is included in the project Green and healthy office, friendly to Slovenia.
GOALS of the project:
- to create a working environment that will be healthy, pleasant and stimulating
- keep Slovenia clean and green
The project addresses 5 areas: waste, energy, water, transport and health.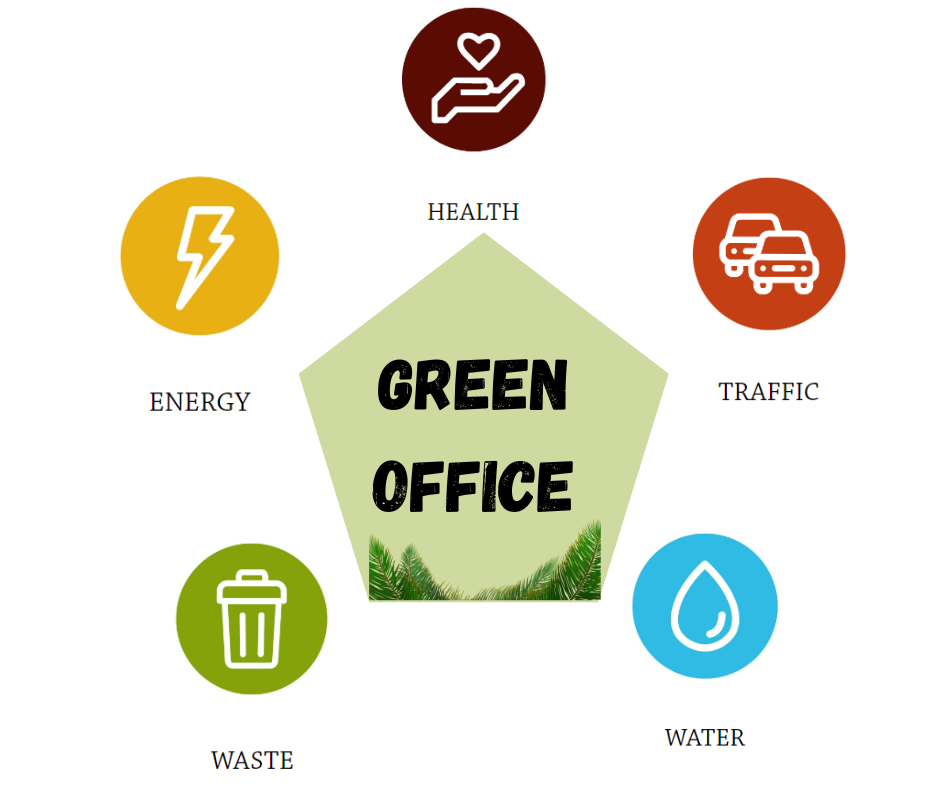 JOIN US!
You are invited to get involved in the project Green and healthy offices, friendly to Slovenia, and thus (co)create a healthy, pleasant and stimulating working environment, with an ear for nature.
REGISTER TO USE THE MANUAL, STICKERS AND HABIT BOOK:
https://www.slovenia.info/sl/poslovne-strani/zelena-in-zdrava-pisarna
AS A DESTINATION, WE PLEDGE:
WATER COMMITMENT: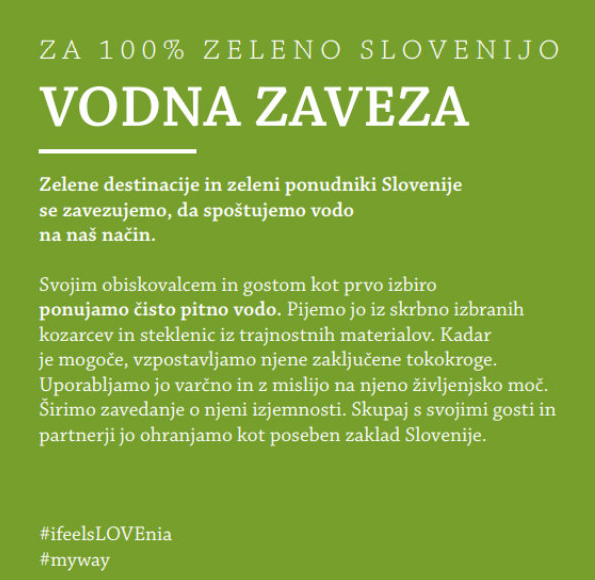 We are committed to the welfare of animals in captivity for the needs of tourism in Cerklje in Gorenjskem.
CODE OF ETHICS FOR TOURIST GUIDES, AGENCIES, AND TRAVEL ORGANIZERS for responsible and sustainable conduct of tourist guiding, aiming to create value in the local environment.
It can be found HERE.
FOR TOURISM PROVIDERS:
OUR GREEN OFFERS
- ACCOMODATION: Dvor Jezeršek
Recieved in 2022 -> SLOVENIA GREEN ACCOMODATION sustainability label
- GASTRONOMY: Dvor Jezeršek
Recieved in 2022 -> SLOVENIA GREEN CUISINE sustainability label
SUSTAINABLE ACHIEVEMENTS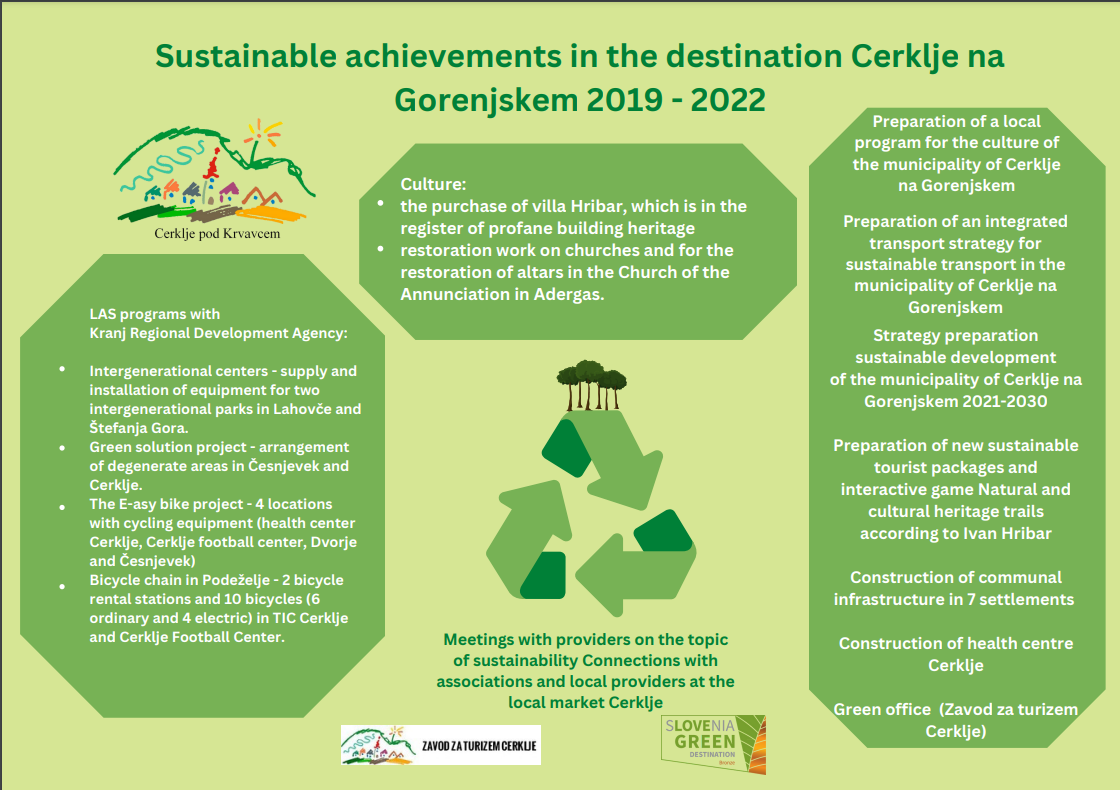 Statistical data of guest arrivals by countries
WE ARE INTERESTED IN YOUR OPINION!

PLEASE TAKE THE SURVEY FOR VISITORS: