Društvo za /po/moč za celovitost življenja Ključ Življenja
lanina 3, 4000 Kranj
Association for Help For Wholesomeness of Life Key Of Life
»THEMED PATHS OF PRIMEVAL LOVE« WITHIN THE FRAMEWORK OF THE PROJECT KEY OF LIFE
STARTING POINT
1. The time we live in, an ever faster rhythm, numerous demands and challenges, all of this calls for support and development of wholesomely conscious, confident individuals and communities, which will be trained for healthy, harmonious existence in harmony with nature and one another.
2. Gorenjska region has much dormant potential for the development of tourism and well - being industry, which supports all that it establishes, maintains and reinforces the health of humans and nature. The lower regions below Karavanke mountains and Kamnik Savinja Alps is especially poorly recognisable. The area is rich in energy - spiritual potential, which are, however, not yet alive / expressing their mission in entirety or in the right way.
In our project, we devote special attention to the development of a wholesomely conscious relationship to oneself and nature for the common good. This can be an excellent economic opportunity for business subjects, local, regional and national area and can, in the long run, enable new employment and a new market for the creators.
3. Our vision is the development of a broader project, within which we would establish a system for the development of a wholesome personal development, which includes physical as well as energy, emotional, mental and spiritual levels. It is based on respect towards nature and inclusion of rich natural, cultural, archaeological, historical, energy and spiritual potential of the area.
It consists of several independent phases, which interconnect, upgrade each other and would spatially include the municipalities Cerklje, Preddvor, Šenčur, Jezersko, Kamnik. They would also connect and mutually enrich places rich in energy (Adergas, Štefanja gora, Stiška vas, Krvavec, Zvoh, Grintovec, Šenturška gora, Tunjice, Kokra river canyon, Sv Lovrenc, Jezersko, ……) and create high quality tourist products for various target groups.
PURPOSE
The purpose is to raise awareness and quality of life through the offer of support and help for a wholesome personal development, based on a deepening of the relationship with nature and inclusion of rich natural, cultural, archaeological, historic, energy and spiritual potential of the area.
At the same time it enables both people and the area a recognition and expression of the primeval essence and mission and with it the possibilities to establish and reinforce health, well - being, peace, creativity, harmonious relationships, an experience of all - connectedness and spiritual awareness.
THE FUNDAMENTAL GOALS OF THEMED PATHS ARE:
discovery, feeling and use of basic keys which open the door to the life energy and expanded consciousness as well as the natural state of awareness and all - connectedness with everything;
support awareness raising, self - realisation of people, their strengths, talents, mission;
offer the possibility of relaxation, cleansing, removal, transformation and curing of all kinds of imbalances;
development of a deepened relationship to nature within oneself and around oneself;
develop and offer comprehensive forms of support and help for life quality;
recognise, unite and offer the potential of a place for mutual good ;
achieving of healthy, harmonious, joyful life by natural and spiritual means
TARGET GROUPS WHOM THE THEMED PATHS ARE INTENDED FOR:
people on the path of personal transformation and growth
people who desire support and aid in the conquering of life's challenges: burn out, weariness, stress, illness, entrapment in damaged and non - harmonious relationships, loss of compass, lack of self - worth
tourists from Slovenia and abroad who seek deeper content
lovers of natural and cultural heritage
programme could be prepared in a way where it is adapted to individual target groups such as: disabled persons, seniors, women, men, unemployed persons, youth, families
CONTENT
The project includes the preparation and implementation of four themed paths, which form a whole and represent a foundation for the expansion of the network to other areas as well.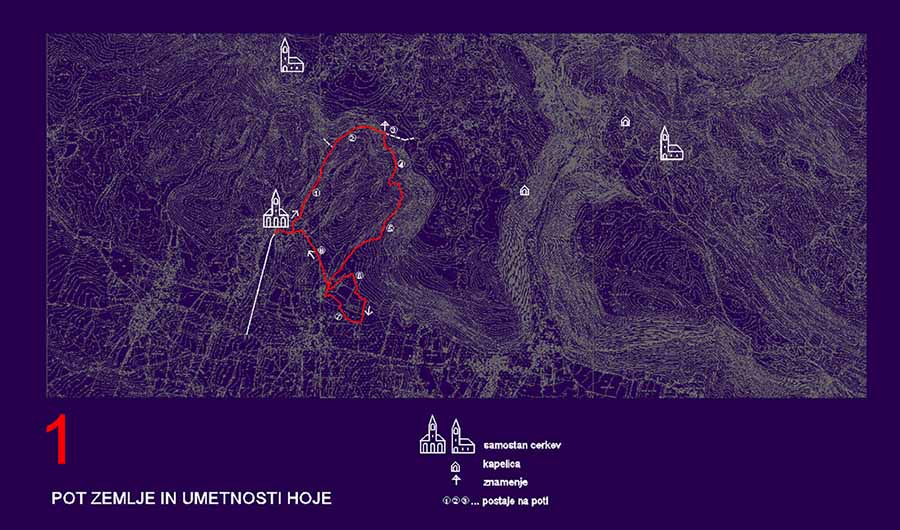 The first path takes place in the location Adergas - sign gain name - Češnjevek swamps - Adergas - PATH OF EARTH AND ART OF WALKING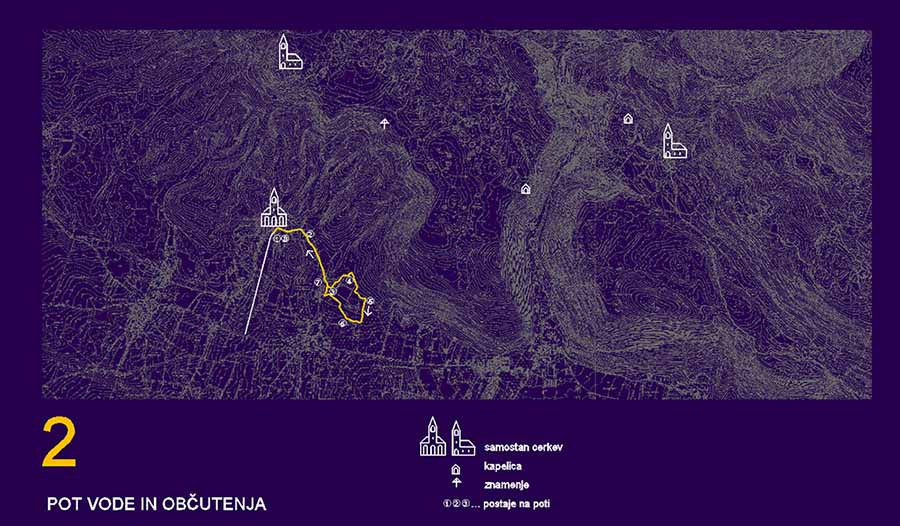 The second path takes place in the location Adergas - past the Čebulj farm - thermal springs - Češnjevek swamps - Adergas - PATH OF WATER AND FEELING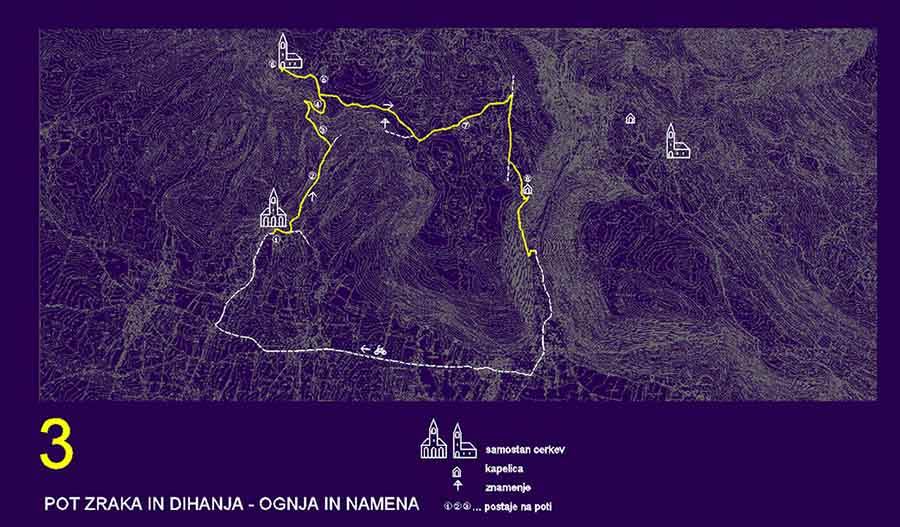 The third path takes place in the location Adergas - Štefanja gora - Sangrad - Adergas - PATH OF AIR AND BREATHING, FIRE AND PURPOSE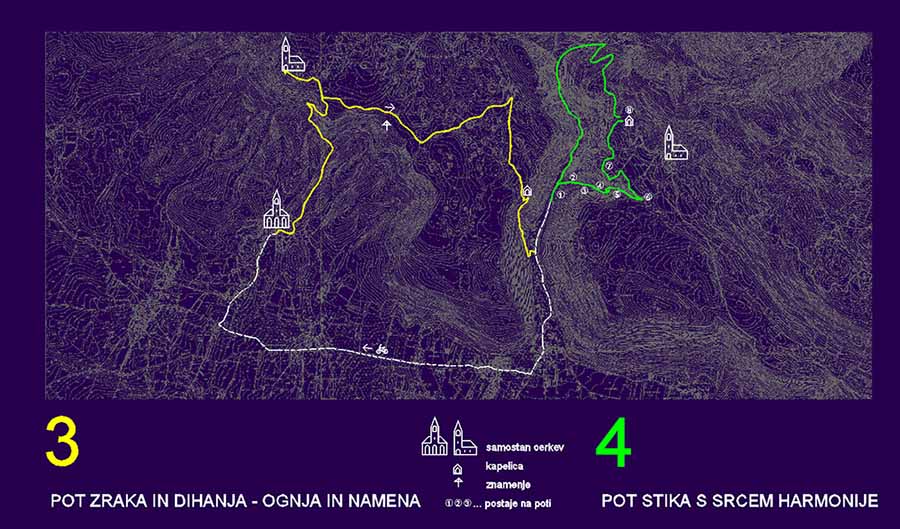 The fourth path takes place in the location Sangrad - Stiška vas, Sangrad - PATH OF CONTACT WITH THE HEART OF HARMONY
The common denominator of all paths is open the door to one's life energy through personal experience, expand awareness and live well, comprehensively, harmoniously, in harmony with nature and all beings.
The first three paths include already recognised, visible cultural and natural heritage. Participants explore and connect with nature and their own physical body. Slowly, they prepare for the expanded, deepened awareness of self and space. They have the possibility to create themselves and learn from stories.
The fourth path puts greater emphasis on the discovery and development of inner, invisible, levels of people and spaces, hidden to the physical eyes.
Through personal experience, we open doors to our life energy, primeval abilities, expand consciousness, remove the veils, which prevent us from seeing the truth. We are introduced to ourselves as multi - dimensional beings, discover our own purpose, begin to realise it and Live fully.